As the makers of fine and luxury watches with the best materials and technology, the name Rolex needs no introduction. The Swiss watch brand, which started as Wilsdorf & Davis, and the Rolex logo meaning have an interesting story behind it.
Rolex SA Information
Founded
1905
Founder
Hans Wilsdorf, James Davis
Headquarters
Geneva, Switzerland
Official website
www.rolex.com
Owner
Hans Wilsdorf Foundation
Other brands/JVs
Tudor
Slogan
A crown for every achievement
It was in 1905 when Hans Wilsdorf, with his brother-in-law Alfred James Davis, ventured into watch distribution business. Although Wilsdorf was all of 24 years, he had already gained valuable practical experience through his stint at watch company Cuno Korten in Switzerland. Initially, Wilsdorf & Davis used to import Swiss movements (internal mechanism of a watch) to England and place them in cases made by other companies.
At the time, pocket watches were more popular than wrist watches as the latter were not very precise and thus unreliable. Some manufacturers claimed fitting the mechanism in a compact wrist watch was just not possible. Wilsdorf saw this as a challenge and sat out to change the situation by using very precise movements manufactured by a Swiss watchmaking company in Bienne. Wilsdorf was also an early believer that pocket watches will eventually give way to wrist watches. Wilsdorf would then go on to become the first manufacturer of chronometer certified wristwatches in 1910. It was a big achievement as only pocket watches could achieve such precision in that age.
Wilsdorf continued to assemble watches under Wilsdorf & Davis and supplied them to jewellers who used to put their own names on the dial.
Rolex – Brand first, Company later
There are several theses behind how the brand name Rolex came into being. A common theory is that the word is derived from the sound of a winding watch. Some claim that the name came from French phrase Horlogerie Exquise which means "Exquisite Clockwork". However, none of this is correct as Wilsdorf himself revealed the origin of the name in 1958, at the 50th anniversary of the brand:
"I tried combining the letters of the alphabet in every possible way. This gave some hundred names, but none of them felt quite right. It was one morning when I was sitting on the upper level of a double-decker powered at that time by horses, driving along Cheapside in London, that a good genie whispered in my ear: "Rolex." A few days after this fruitful journey, the Rolex brand was filed, and then officially registered in Switzerland by Wilsdorf & Davis."
The founder wanted his watches to bear a name that was short, easy to say and remember in any language, and which looked good on watch movements and dials. In short, Rolex fitted the bill perfectly.
It is noteworthy that the company's name continued to remain Wilsdorf & Davis until 1914 when Wilsdorf changed the name to The Rolex Watch Company Ltd. Rolex as a company name was still a few years away and the famed Rolex emblem was nowhere!
Move to Switzerland
The business was faring well but Wilsdorf was forced to move the company from London, England to Bienne, Switzerland in 1915 following the British government's decision to impose a 33% duty on luxury imports. It also helped that Switzerland was the de facto gold standard location for producing watches. This was also the time when Rolex departed from being merely an assembler and started producing some components in house. A move to Switzerland made perfect sense.
The company again shifted headquarters in 1919, this time from Bienne to Geneva marking the movement to what is now the home of Rolex.
Rolex logo meaning – No clear answer
Perhaps a more amazing fact is that the Rolex logo wasn't trademarked until 1925. Like the brand name, there are several theories about Rolex logo meaning. According to some accounts, the five point crown represents the five letters in the Rolex name while some claim it is a representation of five human fingers.
Even though there is no consensus on Rolex logo meaning, the symbol was an instant hit and has remained unchanged through the brand's long history. Over the years, Rolex logo has come to stand for great quality and precision, just like another Swiss brand Omega.
It is not conclusively known when exactly the company started using the Rolex logo on its watches. It launched the world's first waterproof and dustproof wristwatch named Oyster in 1926 and there are several Oyster timepieces without the five point crown logo on them. However, the Rolex logo started adorning most of the watches by 1931.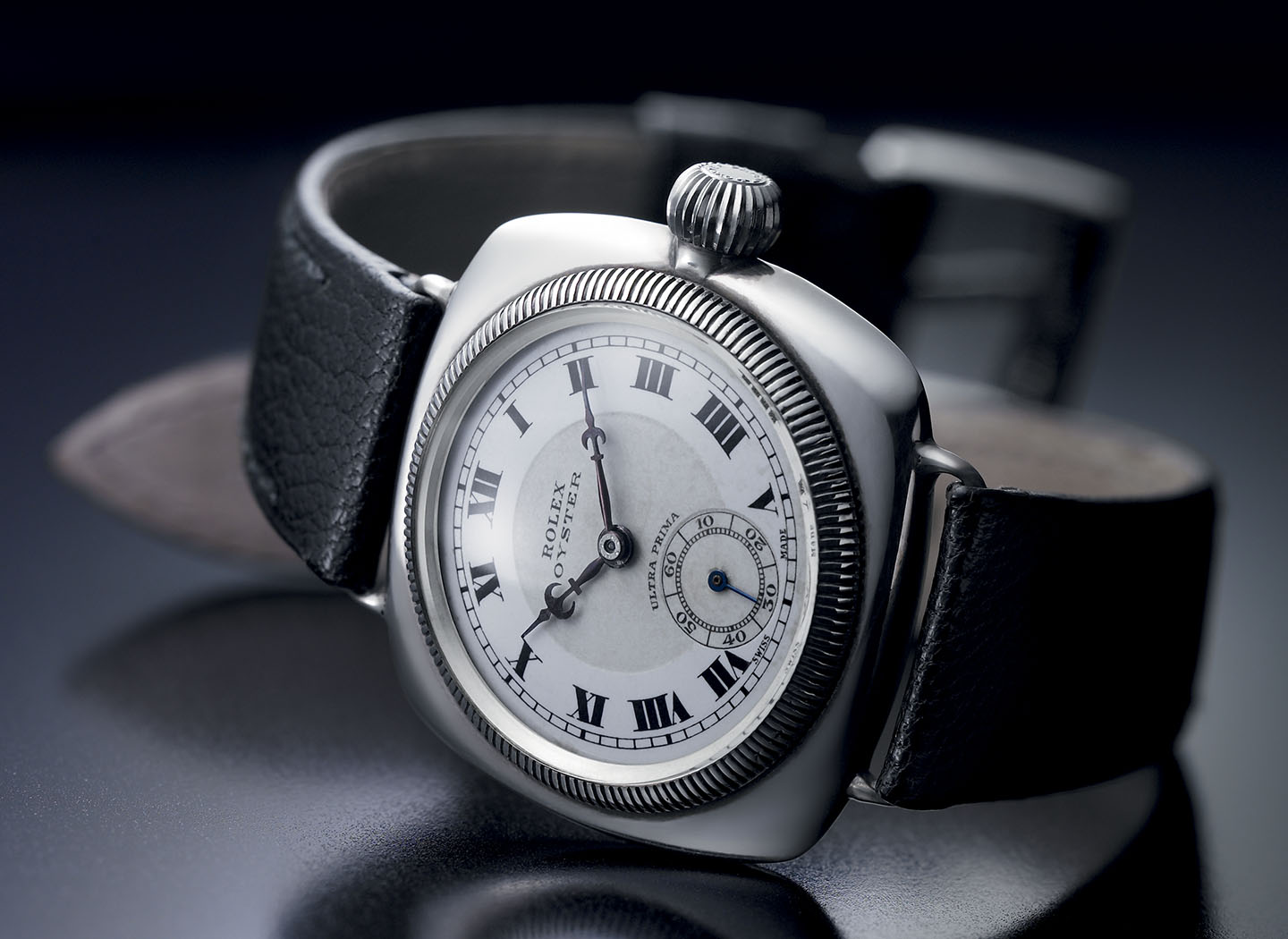 In popular culture, the Rolex symbol has been popularized by its usage by none other than secret agent 007, James Bond. The creator of the James Bond series, Ian Fleming, was a big fan of Rolex watches and he made his creation also don the Rolex crown logo in some novels.
In addition to being a businessman, Wilsdorf was also an altruist and one of the best things he did regarding the ownership of the company was to pass on all his shares in Rolex to Hans Wilsdorf Foundation – a private trust. As a result, the company is owned by a charitable organization that has sustainability of the group as the foremost goal.
At the same time, the trust mandates adequate "Donations to various charities and patronages listed in the founding act as well as to the École d'Horlogerie de Genève, the École des Arts Décoratifs de Genève, to the Faculty of Economics and Social Sciences, University of Geneva, to the Swiss Watchmaking Research Laboratory (Neuchâtel) and to provide the nephews and nieces of the founder and their descendants with allowances for their upkeep, education and upkeep of their children."